"Quality & Service"
Advance Printers has been serving in Ottawa area since 1984.
We provide full printing service.
Our reputation is based on years of experience and know how.
Our production equipment can provided professional quality finishing and fast service. 
Following is our Services:
Digital Colour Printing, Bizhub Press C6000 ( Fast turn around).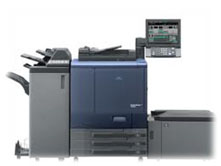 Colour Mazazines
Pamphlets
Invitation and greeting cards
Business cards ... etc
Raffle Tickets
Posters & Wide Format (Banners)
Offset Printing
Commercial printings, Letterhead, Business Cards & Envelopes
Restaurant Menu and supplies
NCR forms & Invoices
Thermography (raised printing)
Embossing & Foil Stamping
Desktop Publishing
Post Printing Services for Trade Printers
Book Bindings: Spiral, Wiro, Cerlox, Stitch & Perfect Binding
Folding & Numbering
Cutting, Scoring & Perforation
Round Corners & Lamination